Customised IT Solutions for Your Vending Machine Business
VendCell in a nutshell gives life to vending machines and enables the transferring of data between them and devices used by you and your employees. VendCell connects to the remotely located machines by devices plugged into their serial ports that enable vending machines to communicate transaction information wirelessly.
The data that your vending machines communicate are instantly stored in secure database servers that you can monitor in real-time. You and your staff can log in and view the instantly updated data using clear and user-friendly pages offered by VendCell's secure website. VendCell also offers instant SMS alerts to notify you of machine malfunctioning, low stocks and change levels, and power outages. Our users also have the option to view these alerts through our website.
When it comes to the vending machine monitoring system, it comprises an automatic vending machine and a monitoring system installed in said. Also, an automatic vending machine for monitoring operation of said automatic vending machine, wherein said monitoring system includes:
a connection interface electrically connected to a displayed automatic vending machine; a microprocessor electrically connected with said connection interface and it adapted for reading in data signals from the said automatic vending machine, processing fetched data signals into waveform signals, and reporting the waveform signals to an external remote system; and alsoa transmission module electrically connected to the said microprocessor to enable the said microprocessor to transmit the processed waveform signals to said external remote system to display the special status and the information of said automatic vending machine.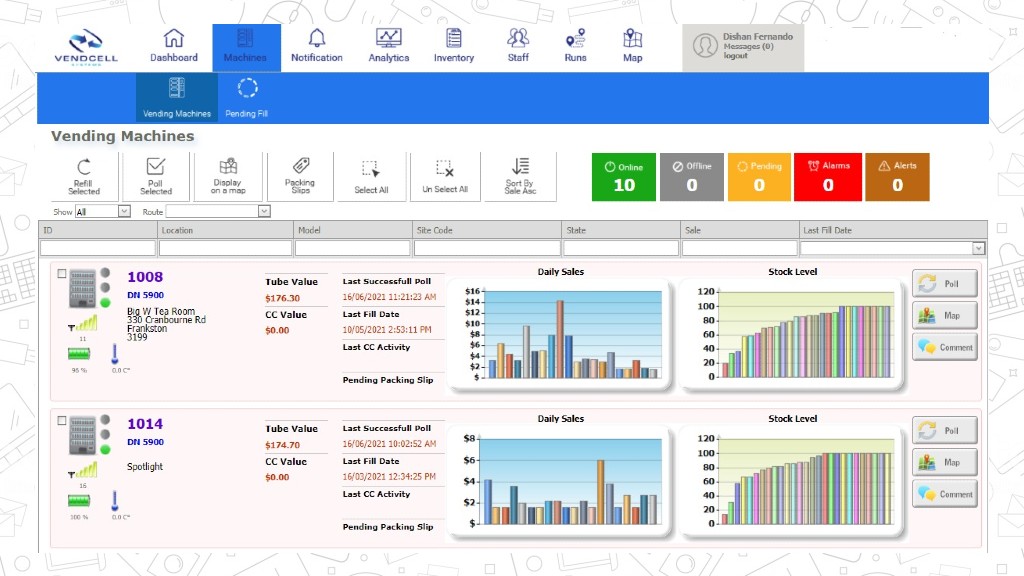 Online Monitoring and Management
Our software for vending machines enables machines to transmit important data into a secure database through which, you can instantly access that data and take various actions. You will know exactly what is happening with each and every machine belonging to your business and their inventory status as well as service and maintenance needs. Through online management, you can make sure and monitor how your operational staff attends to the needs of your vending machines efficiently and make important steps towards optimizing your operations and processes.
Instant Alerts
Quick and timely maintenance of machines without any interruptions to sales is one of the key priorities of any vending machine business. Our vending machine software makes sure that you are alerted about malfunctioning and servicing needs of your machines through instant alerts.
You will be instantly notified of inventory, cash or change depletion, power outages, and other maintenance and servicing needs via our web application and SMS resulting in minimal machine downtimes, loss of sales, and poor customer satisfaction.
Analytics and Insights
Analyzing sales data enables businesses to predict inventory requirements and avoid interruptions and wastages through proper and timely stocking. VendCell brings you valuable analytics and insights to help you understand how fast your inventory moves so that you can optimize the way you stock your vending machines.
Our vending machine solution helps eliminate guesswork from your operations and identify even the most unique trends of particular locations so that you can maintain inventory and sales while cutting back on the wastage of resources spent on restocking. Well-stocked vending machines also mean more sales and customer satisfaction.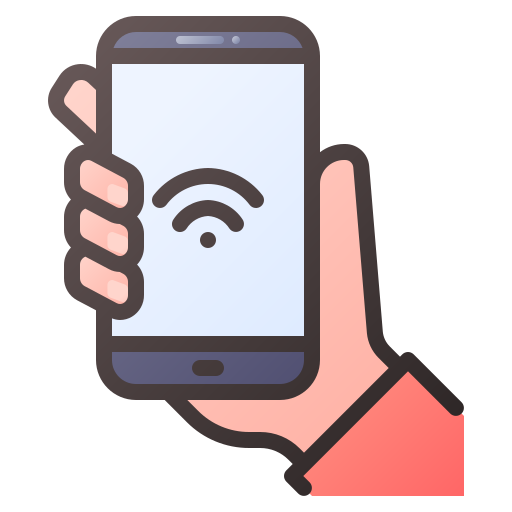 Mobile Connectivity
You can now monitor and manage your business remotely from not only your office or home but also anywhere on the go with our modern and user-friendly vending machine app. It covers all the important features that our web app covers so that you can ensure that everything about your business is running smoothly whenever you're away.
VendCell vending machine mobile application also enables your employees to maintain services without any interruptions, especially when on the field. Using the mobile app enables your employees to operate efficiently and reduce wastage when attending to unexpected servicing and maintenance needs of machines when on the road.
Cashless Vending
The way you manage your vending machines has a direct and highly significant impact on your sales. For example, if a particular machine runs out of cash, the business will not only be losing sales but also customers. As a result, efficient management of machines should be a high priority of any vending machine business.
The tech world is taking huge strides towards cashless transactions and people are quickly catching up. Many people are starting to carry less and less cash, especially change. This growing trend can soon start affecting sales of vending machines. Going cashless is a great way to ensure that you aren't losing any sales while improving customer satisfaction. More payment options mean a larger audience and catering to a wider audience simply means more sales.
As a leading vending operation software in Australia, VendCell has developed a comprehensive range of cashless functionalities to help your vending machine business benefit from cashless transactions. Our vending machine software supports a wide array of modern cashless payment options from debit or credit card payments to payment apps. Furthermore, it helps you monitor and operate cashless payments easily, efficiently, and securely which will ultimately take your business to new heights.